Combined Fighting Systems, located in Eau Claire, WI,  provides instruction on a unique defensive system which blends the best of several martial arts to increase its effectiveness when used in street defense. Students will learn these martial arts through exciting, realistic, and interactive drills in a safe training environment. As a student you will not only have the benefit of learning a very effective and practical martial arts, you will also increase your fitness, coordination, self confidence, and decrease stress. Classes are taught in a fun and relaxed atmosphere.
At Combined Fighting Systems, students will learn a combination of Kali–Escrima, boxing, Panantukan, Muay Thai, Silat, JKD, ground survival basics, and Wing Chun principles.
Kali – Escrima
This weapon–based Filipino Martial Art is the core system of Combined Fighting Systems. This complete martial art system teaches stick to knife to empty hand with the use of zoning footwork to give the user an advantage against their opponent. This system is designed to deal with multiple attackers at once through techniques and strategies that are still used today by the military.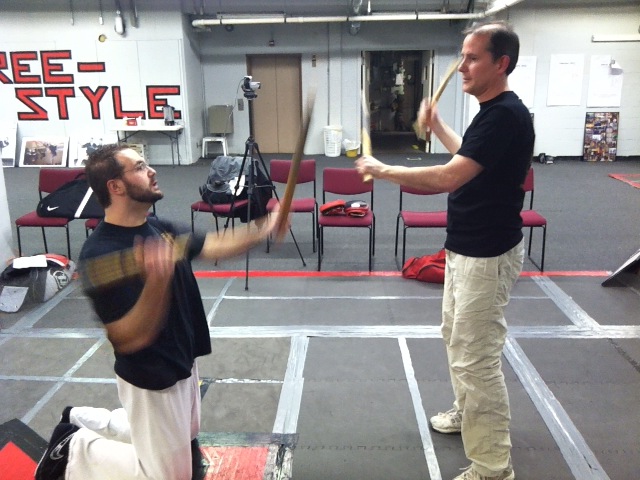 American Boxing and Panantukan
You will learn basic principles from two systems of boxing, Filipino boxing called Panantukan and American Boxing. Both provide a wide variety of upper body and hand techniques to strike multiple body targets. Panantukan also teaches body manipulation, off balancing, body sectoring, locks, throws, and take-downs.
Muay Thai
This system is known for its very powerful and destructive striking. Muay Thai techniques focus on leg kicks, knee strikes, and elbow strikes, along with the use of boxing techniques.
Silat 
This system educates the student how to use the attacker's body against themselves, through body manipulation, body leveraging techniques, takedowns, and leg sweeps. This is done from stand to ground and from ground to stand.
Ground Survival Basics
The student learns basic take-down defense, basic escapes from ground to standing, ground striking, and how to fall safely.
JKD and Wing Chun Principles 
The student will learn how to remove an opponents physical barriers, lines of attack, distance and pressure through dynamic striking, and trapping drills.